The wealth-management products that banks sell at branches across China are often considered as safe as deposits by customers. There are growing reasons to question that faith.
The ability of Chinese lenders' $2.4 trillion of WMPs to generate the returns they promise is being undermined as monetary easing has pushed corporate bond yields to a five-year low. Loath to lose market share by advertising weaker performance, managers of the funds have been adding leverage, extending maturities and buying higher-yielding notes that are rarely traded, according to consultancy CNBenefit and HSBC Holdings Plc.
"A large number of WMP funds have entered the bond market and used maturity mismatches and leverage to raise yields," said Gao Shanwen, chief economist at Essence Securities Co. in Beijing. "If you add the implicit guarantee to that, along with a general lack of transparency and regulation, the bond market really could be the next eye of the storm in financial markets."
Banks are piling into riskier debt despite warnings of a leverage-fueled bubble from local brokerages, at least five bond defaults this year and the weakest economic growth in a quarter century. This risks a repeat of the trust industry panic that sparked emerging-market turmoil in early 2014 and protests among holders of failed products.
The shift in strategy has allowed lenders to slow the decline in WMP returns. While the one-year AAA corporate bond yield has plunged 98 basis points to 3.02 percent over the past six months, the average expected yields on these products have fallen only 62 basis points to 4.53 percent, according to data from CNBenefit, which provides consulting services to banks and insurers on investment products.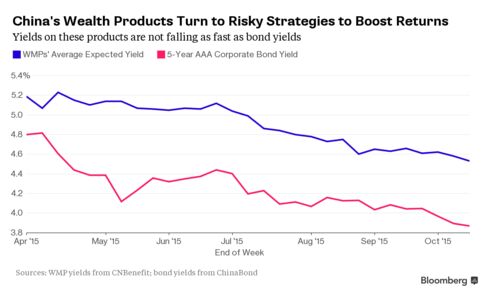 Wealth products have lured funds from Chinese customers with the combination of perceived guarantees and yields that trump the deposit rate, which until last Friday was capped at a maximum 2.625 percent. While some of the cash from WMPs facilitate off-balance-sheet lending though repackaged loans, 44 percent was invested in bonds or money-market instruments at end-2014, according to the China Banking Wealth Management Registration System.
This has made a slide in short-end corporate debt yields and average money-market rates to the lowest since 2010 especially brutal for WMPs. In the first half of this year, managers relied on the world-topping Shanghai stock market for returns. But as equities retreated 35 percent from a June peak, the funds headed back to bonds.
Paying Out
While some WMPs are now bringing in less than what the lenders pay out, banks are reluctant to lower returns for fear of losing clients, according to Li Linxia, a researcher at CNBenefit. Last week's scrapping of a ceiling on deposit rates will make little difference to the reliance on WMPs because customers are still drawn to the higher yields they offer.
The risk to banks will increase should there be a correction in the bond market, as was predicted by 10 economists surveyed by Bloomberg this month.
Expectations of a drop come as shares head for the first monthly advance since May and a jump in repurchase transactions — where investors use their debt holdings as collateral for funds — fuel speculation that policy makers may step in to rein in excessive leverage. The 10-year government bond yield rose two basis points this week in the first weekly increase since August.
Any sudden declines in bond prices risk margin calls on WMPs that could lead to a selloff, said Zhang Zhiming, head of China research at HSBC in Hong Kong. Private-placement notes, which are less liquid, may drop especially quickly, he added.
"The perception so far is whatever WMP you buy at the bank counter won't have any default risk, so it's a competition based on yield," said Zhang. "If the government tries to unwind the excessive leverage or allows default to happen, you may trigger redemptions. That means you have to sell down."
Open all references in tabs: [1 – 3]
Leave a comment
You must be logged in to post a comment.